The Nebraska Wind Symphony's 46th concert season brings more great music to the Omaha area.
Formal Concert Schedule
Fall Concert – October 16, 2022 – 3PM – UNO Strauss PAC – 3PM tentative
Holiday Concert – "Making Spirits Bright" – November 24, 2022 – 7PM- Holland Center
Winter Concert – February 19, 2023 – 3PM – "Middle School All-Stars" – UNO Strauss PAC
Spring Concert – April 16, 2023 – 7:30PM – UNO Strauss PAC
UNMC Commencement – May 6, 2023 – tentative
Summer Concert Schedule
Summer Concert – June 11, 2023 – location and time TBD
July 4th Concert – July 2, 2023 – location and time TBD
Turn on the Cheer – Holiday Lights Festival – Thursday, Nov 24 – 7PM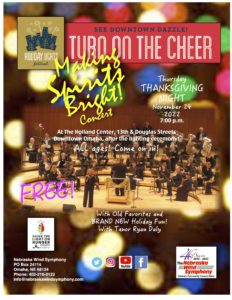 The Nebraska Wind Symphony is playing the Making Spirits Bright Concert at the Holland Performing Arts Center as part of this year's Holiday Lights Festival. The tree lighting activities are at 6pm. The 7pm concert is FREE to the public and no tickets are needed! We will provide great music for all ages to kick-off this joyous season. You will hear a few holiday favorites, some with a new twist. We will be playing 2 new holiday pieces written by Larry MacTaggart. Tenor Ryan Daly joins us to sing some classic holiday tunes and lead the audience in a sing-a-long.
The lobby of the Holland Center lobby opens at 5:30pm as a shelter from the cold for those attending the 6pm tree lighting. The doors to the concert hall do not open until 6:30.pm. Guests can sit in the orchestra section (main floor) or on the first tier.
This event is a fundraiser for the Food Bank of the Heartland. Please consider making a donation when you attend this concert.
Bring the whole family down to the Holland and enjoy the music of the holidays.
Check out the FLYER or the POSTER.
Fall Concert – Sunday, October 16, 2022 – 3PM
The Nebraska Wind Symphony presents the first concert of our 46th season on Sunday, October 16th at 3:00 PM at the Strauss Performing Arts Center on the campus of the University of Nebraska-Omaha. This concert is under the direction of Visiting Music Director, Dr. Joshua Roach. You can read about Dr. Roach on our staff pages.
The music for this concert revolves around the rising sun. Selections performed are by Frank Ticheli, Katahj Copley, Julie Giroux, Kenneth Alford, Dwayne Milburn, Joni Greene, Josh Roach, and Cait Nishimura.
Get the flyer for this concert.
Tickets are $10 for seniors, $15 for adults. Free for all students and children under 12.