NWS Fall Concert, A Spooky Gathering – Oct 15, 3PM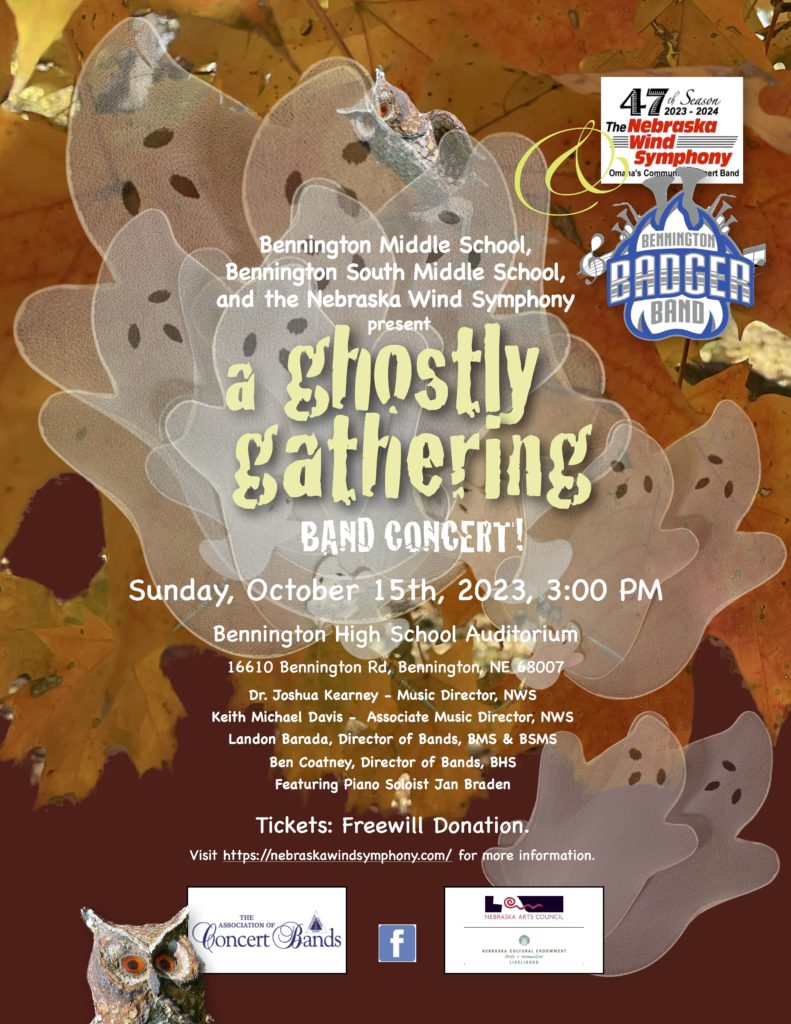 NWS collaborates with the Bennington and Bennington South Middle Schools for the opening concert of our 47th Season. The concert will be at Bennington High School at 3PM on Sunday, October 15, 2023. The program has a Halloween theme in appreciation of the season! Please join us for this celebration of musicianship at all ages!
The combined Bennington Middle and Bennington South Middle school bands directed by Landon Barada will perform Thrill Ride by Brian Balmages; Hedwig's Theme by John Williams; Night Fury by Carol Britten Chambers; and end rocking it with Dr. Rockenstein by Steve Hodges. Mr. Ben Coatney (director of bands at Bennington High School) will be a guest conductor.
NWS will join the combined Bennington bands to perform Dreamsong by Richard Saucedo, featuring piano soloist Jan Braden, accompanist at Bennington High School, followed by the Nebraska premiere of Dance Of The Shadows by Adrian Sims.
The Nebraska Wind Symphony, directed by Dr. Joshua Kearney finishes the concert with selections from the following: Noisy Wheels of Joy by Eric Whitacre; Ghost Apparatus by David Biedenbender; Hung Aloft the Night by Anthony O'Toole, conducted by Keith Davis; Gadget by Randall Standridge, conducted by Landon Barada; Nobles of the Mystic Shrine by John Philip Sousa; and Peer Gynt Suite by Edvard Grieg.
Be sure to get the flyer and share it with your friends and family. Share our Facebook event too!
There is no admission charged for this concert. This season NWS relies on the generous donations of businesses and our friends throughout the Omaha area. Thank you for supporting NWS and our concerts!
---
NWS Concerts Free This Season
here is no admission charged for this NWS season's concerts. We rely on the generous donations of businesses and our friends throughout the Omaha area. Thank you for supporting NWS and our concerts this season!
---
NWS to Host ACB Regional Connection – April 26-27, 2024

The ACB Regional Event provides an opportunity for adult instrumentalists in community bands in the midwest area to gather, share ideas and some great concert band music.
Read more about this event and the ACB at the ACB Regional Event page.
---
2023-24 Our 47th Concert Season
Concert Series Schedule
Fall Concert – October 15, 2023 – 3PM – Bennington High School
Holiday Concert – December 10, 2023 – 3PM – UNO Strauss PAC
Winter Concert – February 18, 2024 – 3PM – UNO Strauss PAC
Spring Concert – April 27, 2024 – 7:30PM – UNO Strauss PAC
Summer Concert Schedule
Summer Concert – June 9, 2024 – 6:00PM – TBD
July 4th Concert – July 7, 2024 – 6:00PM – TBD
For more information see our Season 47 page.
---
Thank You! for Supporting NWS
NWS relies on financial support from its playing members, concert patrons, and businesses and individuals from around the Omaha metropolitan area. These gifts help us to pay for rehearsal and concert space, music director and other staff salaries, new music purchase and rental, performance rights, insurance, replacement equipment, and so many other things.
Consider providing your financial support of NWS through one or more of these methods:
Direct Donation – Sponsor a Concert – Purchase a Program Advertisement – – Giving Programs can fund us through your purchases – ShareOmaha Events
---
Two Free Concerts – Summer 2023!
The NE Wind Symphony, Omaha's Community Concert Band, teamed up with the NWS Swingtones to present two free concerts that got everyone's feet dancing and toes tapping. Thanks for joining us for either or both of these free events.
Each show began with the Swingtones Big Band performing jazz standards at 6pm. Then the Nebraska Wind Symphony entertained everyone with marches, music from Broadway and movies, and more.
Sunday, July 2 – 6PM –
Granary Green – 7401 Main Street, Ralston, NE (view map)
NWS Swingtones followed by the NE Wind Symphony Community Band
There is plenty of parking near the venue.
Bring a lawn chair and a snack. Some limited picnic table seating is available.
View the concert program
View and print a flyer Flyer 1 – Flyer 2
Free-will donations accepted to offset the associated costs of this concert.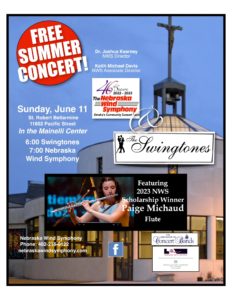 Sunday, June 11 – 6PM – St Robert Bellarmine Catholic Church, 11802 Pacific Street, Omaha, NE.
Enjoy the music in the air-conditioned comfort of the Mainelli Center at St. Robert Bellarmine Church. NWS Swingtones followed by the NE Wind Symphony Community Band. This concert features Paige Michaud, flute, our 2022 NWS Scholarship winner. Paige is outstanding flute soloist you won't want to miss. View the concert program.
For details on all of the concerts in our 46th season visit our Season 46 Concert page.
---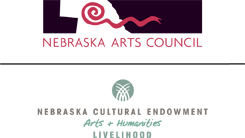 Thanks to the support of the Nebraska Arts Council and the Nebraska Cultural Endowment for supporting our Winter Middle School All-Star concert during our 2022-2023 concert season.
---
2023 NWS Memorial Scholarship Competition amounts of $1,000and $500 are awarded. See our scholarship page for additional details about the scholarship.
2023 application period was January 24 through March 31, 2023!
Congratulations to our 2022 scholarship winners; Paige Michaud and Seh Na Mellick! Read more about our scholarship winners by visiting our scholarship recipients page.
---
Hey Nebraska Wind Symphony Fans!
For information on all of our concerts see our 2023-2024 Concert Season page.
Don't miss another exciting concert!
Become a fan and receive information and reminders about our upcoming events.
---
Have you liked us on Facebook?
Get the latest updates on concerts, plus much more…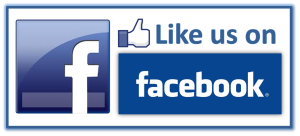 Check us out on InstaGram too!
---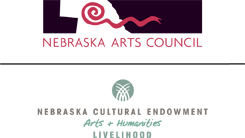 with the support of the Nebraska Arts Council and the Nebraska Cultural Endowment
---