Congratulations to the following young people who have received the NWS Memorial Scholarship.
2022 Scholarship Recipients
Top Award – Paige Michaud, flute
University of Nebraska-Omaha
Concerto in D Major, op. 283 by Carl Reinecke
Second Award – Seh Na Mellick, oboe
University of Nebraska-Omaha
Concerto sopra motivi dell'opera 'La favorita' di Donizetti by  Antonio Pasculli
2021 Scholarship Recipients
College Recipient – Erica Wilkins, flute

Concerto in C by Chaminade
University of Nebraska Omaha – $1000 scholarship
Erica Wilkins is currently pursuing her Bachelor of Arts Degree in flute performance at the University of Nebraska at Omaha. She won UNO's Concerto-Aria Competition in December 2020 with her performance of the Nielsen Flute Concerto and will perform as a soloist with Heartland Philharmonic Orchestra in Spring 2021. Her principal teachers include UNO Woodwind Professor Dr. Christine Erlander Beard and Maria Harding (principal flute, Omaha Symphony). Outside of being a student she loves working with children and is the Site Facilitator for Edison Elementary 21st Century Before and After School Club and Literacy Programs.
High School recipient – Gwen Leuschen, percussion
Sonata for Marimba and Piano by Peter Tanner
Palmyra, NE – $500 scholarship

Gwen Leuschen will be attending the University of Nebraska-Lincoln beginning in the Fall of 2021 and major in Percussion Performance, with a minor in Communications. She hopes that one day she will get the opportunity to play in a pit orchestra for a Broadway musical. Along with participating in her school's many band ensembles, she is also actively involved in speech, theater, show choir, and golf. Gwen got the opportunity to perform with the Nebraska All-State Band in 2019 and was honored to be chosen to play the vibraphone for the Nebraska All-State Jazz Band in 2020. In addition, she participated in the Nebraska State Speech Tournament in 2021. She is excited to continue her musical journey and hopes to one day get the opportunity to play with the Nebraska Wind Symphony.
2020 Scholarship Recipients
Top Prize Winner- Kendall Wooden, percussion

Concerto No. 1 for Marimba by Ney Rosauro
University of Nebraska Omaha
Kendall Wooden is pursuing a music performance career as a music performance major at the University of Nebraska at Omaha (UNO). Aside from his intense devotion to God and his family, music is his ultimate purpose and passion. Kendall is an up and coming percussionist who lights up every room with his passion for music.
Kendall discovered his love for music at age of nine during his first drum set lesson. He quickly fell in love with music and became fascinated with percussion and the depth of the art. Kendall had a broad set of high school musical experiences; drum line for the Bellevue West High School marching band, member of the nationally competitive Bellevue West Indoor Percussion, selected as timpanist for the Nebraska All-State Band, superior ratings at District Music Contests. While at UNO,
Kendall's performance experiences include Heartland Philharmonic Orchestra playing alongside the Omaha Symphony, UNO Symphonic Wind Ensemble, UNO percussion ensemble, and the progressive electronic ensemble. He has also had the honor of working with these musicians: Steven Schick, Svetoslav Stoyanov, Hannah Weaver, Gary Hobbs, Tomm Roland, Pete Zimmer, Ben Markley, Dave Stryker and Andy Martin.
Solo performance is becoming an important part of Kendall's path as well. He was selected to perform at UNO's International Rising Stars Concert Series as well as being the winner of the Nebraska Wind Symphony's 2020 Concerto Competition. He plans to participate in more competitions to push himself to be a better musician and to continue to create great music. As he moves forward with his dreams, Kendall keeps God at the forefront of all he does, ever grateful for his daily blessing.

Secondary Winner – Nathan Novak, tuba
Tuba Concerto, Movement 1 by Edward Gregson
University of Nebraska Omaha
2019 Scholarship Recipient Nestor Pelayo, University of Nebraska – Lincoln
Nestor Pelayo, euphonium, is a Music Education major at UNL.  He soloed with NWS at our July 4, 2019 summer concert at SumTur Theater.  Nestor performed "The Yellow Rose of Texas Variation" by Lewis J. Buckley.  Nestor is a student of Professor Craig Fuller.
2018 Scholarship Recipient
Samuel Kalhorn University of Nebraska – Omaha
Samuel J. Kalhorn began playing cornet at age 2 after his grandfather demonstrated the instrument to him. He is studying music performance with Jason Johnson at the University
of Nebraska-Omaha, with Scott Quackenbush of the Omaha Symphony and, most importantly, with his grandfather, Richard Hofmockel.
Sam graduated from Glenwood Community High School in 2015. He is a three-time allstater and a two-year member of the Iowa State Gold Honor band, among numerous awards. He also is an accomplished vocalist, actor and speaker. He lives in Omaha and enjoys an active performance schedule with UNO and  independent music projects, including Clark and Company, The Flying Apes and Bound. He teaches trumpet and, during his spare time, enjoys cooking, lifting weights, going to jam sessions, taking care of his pets and "driving around blasting jazz as loud as possible."
2017 Scholarship Recipient
Cal Switzer University of Nebraska – Kearney
Cal Switzer is a Dean's List freshman studying Music Education at the University of Nebraska at Kearney. He studies trombone and jazz with Dr. Tim Farrell at UNK and with Dr. Jay Wise in Omaha. Cal is principal trombonist in the UNK Jazz/Rock Ensemble and UNK Wind Ensemble. He also performs in the Kearney Symphony Orchestra, UNK Pride of the Plains Marching Band, UNK Brass Quintet, and leads the UNK Jazz Combo.
In high school in Gretna, Cal was a three-year member of the All-State Jazz Band and participated in honor bands at Doane University, University of Nebraska at Lincoln, University of Nebraska at Omaha, and Nebraska Wesleyan University. He was a member of the 2014 National Association for Music Education Honor Jazz Band and the Metro Area Youth Jazz Orchestra. At Gretna High School, Cal received the John Phillip Sousa Band Award, the Louis Armstrong Jazz Award, and won the John Shildneck Young Artist Solo Competition. Cal is also an active member of various state, national and international music associations.
Cal's interests include giving pitching lessons, coaching baseball, reading, and collecting movies and movie posters. His dream is to play professionally, have his own trombone studio, and run a jazz program at the university level.
2016 Scholarship Recipient
Evan Hoylman University of Nebraska- Lincoln
Evan Hoylman is studying Music Education and minoring in Music Technology at the University of Nebraska- Lincoln where he plays in the Wind Ensemble and sings in the Varsity Chorus. In high school, Evan was a three-year All-State musician and participated in honor bands at Nebraska Wesleyan University, Hastings College, UNL, and Drake University. A recipient of the John Philip Sousa Band Award, the Nebraska Young Artist Award, and the NMEA Music Grant, Evan is also an active member of the Nebraska Music Educators Association and the National Association for Music Education.
Outside of music, Evan also participates in the University Honors Program and serves on the Honors Program Student Advisory Board. His interests include psychology, current events, and architecture. Evan enjoys reading and computer programming.
2015 Scholarship Recipient
Schylar Junginger Logan View High School, Hooper, Nebraska
Schylar has been playing soprano, tenor, alto and baritone saxophones for more than six years. He played in the high school jazz, marching, concert and pep bands. He was also a student in the BluesEd program (affiliated with the Omaha Blues Society) and plays with the youth blues band Us & Them. At the time of his performance with NWS he was a member of the UNO Metro Area Youth Jazz Orchestra (MAYJO) and Cathedral Arts Project (CAP) Jazz program. He also is a member of the band Escape from AlcaJazz that has recorded two CD's of original music. He was selected for the Nebraska All State Jazz Band three years in a row.
Schylar plans to attend the University of Nebraska at Omaha to study Saxophone Performance. He will also continue to perform in a variety of extra-curricular and community activities in Omaha and the surrounding area.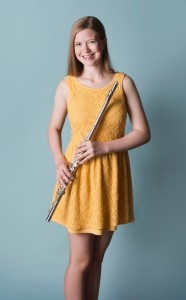 2014 Scholarship Recipient
Abigail Innis Westside High School, Flute. Abigail took part in Hastings Honor Band and UNL Winter Winds this year and also was in Omaha Area Youth Orchestra for her second year. She participated in jazz band, marching band, and concert band at Westside all four years, and also started a flute choir at her school. She hopes to continue with similar groups in college. Outside of band, she runs cross country and works at a bike shop. Abby hopes to become a high school band teacher by pursuing a degree in music education at the University of Nebraska at Omaha.
2013 Scholarship Recipient 
Zach Beran University of Nebraska-Omaha, trumpet.   We welcome Zach as the 2013  NWS Memorial Scholarship and Concerto Winner.  Zach is a sophomore music education student at the University of Nebraska at Omaha who dreams of being part of a professional orchestra and teaching as a college trumpet professor.  He started on trumpet in 2004 with Dan Irvin at St. Vincent de Paul School in Omaha.  Zach played in the Music in Catholic Schools Honor Band in 2005 in sixth, seventh and eighth grades and was in the Nebraska State Bandmasters Association Honor Band as an eighth grader.  At Skutt Catholic High School, Zach was in several honor bands and orchestras, including the UNL Winter Winds, the Wesleyan Honor Band, the UNO Honor Band and the Hastings Honor Band, and received a UNO BOCH Festival scholarship. He played first trumpet in the Nebraska All-State Orchestra while in high school.  Zach has studied trumpet with Joe Homan, Joel Edwards and Jason Johnson, his current teacher.  We hope Zach's appearance with us today will encourage other young students to apply for our annual scholarship, and inspire fans of the Nebraska Wind Symphony to donate to our scholarship fund, feeding the futures of other budding musicians.  What would our lives be like without music? Check our website for information about applying for the scholarship, and details about the concerto competition.
2012 Scholarship Recipient
Tate Rittenberger, Gretna High School, trombone.  Tate's musical talents at Gretna High School included performances with the high school concert, marching, jazz and show choir bands.  He was selected to perform with the Nebraska Music Educators Association (NMEA) All-State Band for two years and the All-State Orchestra this past year.  His musical talents include performances in the Nebraska Wesleyan and University of Nebraska at Omaha (UNO) Honor Bands for two years and the Doane College Honor Band for one year.
His talents extend to his academic studies, being on the honor roll all four years at Gretna High School.  His interests also included being a four-year Bowling Team member, a member of the National Honor Society, Future Business Leaders of America (FBLA), the Science Club, and Spanish Club.
Tate plans to attend the University of Nebraska at Lincoln (UNL) and enroll in the Architectural studies program.  In addition, he plans to participate in the university band program, including the Cornhusker Marching Band.
2011 Scholarship Recipient
Sean Lockard, University of Nebraska-Omaha, Euphonium
Sean is the first NWS scholarship recipient to perform a concerto solo with the NWS. He is a graduate from Omaha South High School. He is a Senior at the University of Nebraska at Omaha pursuing a degree in Music education. Sean originally came to UNO as a trombone major before switching to euphonium his second semester of his freshman year. For the past three years Sean has held the principle euphonium spot in the UNO Symphonic Wind Ensemble. Sean has also been the low brass instructor for Omaha Central High School marching band for the past three years. He has also been the trombone sectional instructor for the Millard summer band and orchestra camp for the past two years. Sean plans to student teach in the spring of 2012 and start teaching that fall in the Omaha area.
2010 Scholarship Recipient
Ryan M. Beasley, Blair High School, Trumpet
Ryan is planning to participate in both jazz band and wind ensemble while in college.  He hopes to continue performing in local ensembles after his college graduation and use his music performance/technology degree to create sound design systems and possibly design improvements to musical instruments.  Some of his other musical honors include, Nebraska Wesleyan Honor Band for 3 years, sitting first this past year and being named an outstanding participant as well, Hastings College Honor Band for three years, again sitting first this past year,  Nebraska All-State Band for three years, again earning the first chair spot this year. Outside of the music department, Ryan is also a Life Scout with the Boy Scouts, is on the academic honor roll and a member of the FBLA. Ryan can also be found in a variety of extra-curricular and community activities.
2009 Scholarship Recipient
Holly Bussa, Fremont High School, Tenor Saxophone
Holly was first chair Tenor Saxophone in the 2008 Nebraska All State Band and graduated 1st in her class of 314 at Fremont High School with a GPA of 4.0.   Holly also plays clarinet and piano.  She was a 7 time state cross country and track medalist and was also involved in International Thespian Society, Key Club, Math Club, National & Spanish Honor Society.  Holly participated in Dana College, UNO, UNK, Hastings, Wesleyan, and UNL Winterwinds Honor Bands.  Outside of school, Holly is a member of First United Methodist Church Praise Band and Spoudazo, a youth singing and drama ministry through First Lutheran Church.  She also volunteers for the Summer Youth Beginning Band program.  Holly is an Omaha World-Herald Distinguised Scholar and is majoring in Music Education at the University of Nebraska-Lincoln.
2008 Scholarship Recipient
Cameron Blazek, Bellevue East High School, Alto Saxophone
Cameron was the recipient of the first scholarship awarded by NWS.  Cameron is attending the University of Nebraska-Omaha.   He graduated from Bellevue East at the top of his class of 365 and has been on the UNO Dean's list for the last two years.  Cameron plays alto, tenor, and baritone saxophone as well as clarinet and basson.  He has been a member of the UNO Marching Mavericks, Jazz II Ensemble, University Band, Symphonic Wind Ensemble, and the UNO Vocal Jazz Ensemble.