39th Concert Season
Thurs, Oct 1, 2015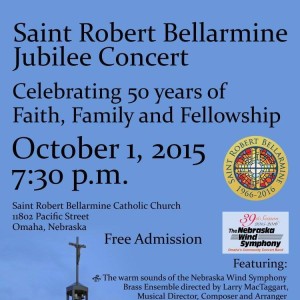 NWS Brass in Concert – in celebration of St. Robert Bellarmine parish's 50th Anniversary year
7:30PM – St. Robert Bellarmine Church, 11802 Pacific St, Omaha, NE
The concert featured music in a variety of styles which appeal to everyone.
Selections for  organ, brass and organ and brass only, including arrangements for small brass ensemble music to full brass choir and percussion.
Early brass music from Gabrieli – Canzon Septimi No 2 with Organ to Cannon Fodder,  a contemporary swing style round by Las Vegas arranger Gene White.
NWS Associate Director and Composer Keith Davis wrote an exciting new fanfare arrangement of On Eagles Wings, a hymn originally written for St. Roberts parish.
Keith was also featured on his arrangement for solo F Horn with brass choir and organ accompaniment, Bring Him Home.
Patriotic music feature was My Country Tis of Thee by Bruce Broughton arranged  for full brass choir by Mark Freeh.
Sun, Nov 15, 2015
NWS Fall Concert – People and Places
3PM – UNO Strauss Performing Arts Center, 60th and Dodge
Selections included El Camino Real by American composer Alfred Reed, The Duke of Cambridge March by British composer Malcolm Arnold, Molly on the Shore by Percy Aldridge Grainger, "White River Revival" by Larry MacTaggart, and others.  The concert featured renowned Omaha vocalist Mary Carrick and the Omaha Percussion Ensemble. Omaha World-Herald columnist Michael Kelly was our guest narrator on Ask Not, a programmatic piece highlighting the life and times of President John F. Kennedy.
Tickets: $10 Adults; $5 Students/Seniors; Free for children under 12
Thurs, Nov 26, 2015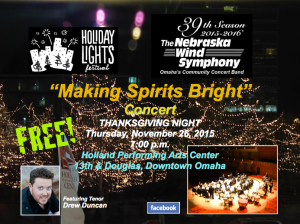 Making Spirits Bright Holiday Concert
This concert was cancelled due to weather concerns! Other Holiday Lights Festival activities were postponed to Saturday, Nov 28. 
7PM – Thanksgiving Night at the Holland Center
Admission: Free!  Seating is first come, first served.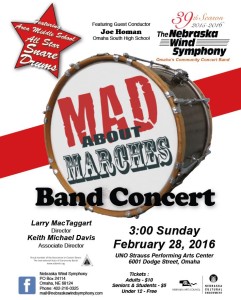 Sun, Feb 28th, 2016
NWS Winter Concert – Mad about Marches
featuring Middle School All-Star Percussionists, guest conductor, Joe Homan, guest organist, David Schack
3PM – UNO Strauss Performing Arts Center, 60th and Dodge
Tickets: $10 Adults; $5 Students/Seniors; Free for children under 12
Sun, April 17th, 2016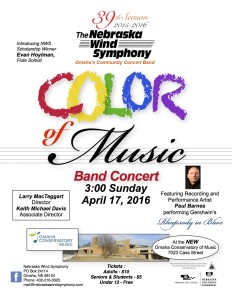 NWS Spring Concert – Color of Music
featuring Paul Barnes on "Rhapsody in Blue" by George Gershwin
and also featuring our NWS Scholarship winning soloist, Evan Hoylman, flute
** NOTE – New Location **
3PM – Omaha Conservatory of Music, 7023 Cass St.
Tickets: $10 Adults; $5 Students/Seniors; Free for children under 12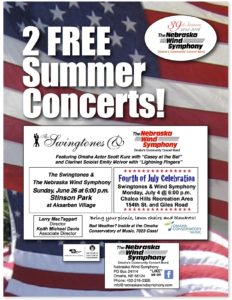 Sun, June 26, 2016
NWS Summer Concert with the NWS Swingtones Big Band
6PM – Stinson Park, Aksarben Village, 63rd and Center
Free will donation
Mon, July 4, 2016
NWS July 4th Celebration with the NWS Swingtones Big Band
6PM – Chalco Hills Recreation, S 154th St and Giles Road
Free will donation