41st Concert Season – 2017-2018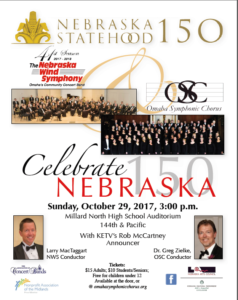 Sunday, October 29, 2017 –
"Celebrate Nebraska – 150 years!"
3PM at Millard North High School
with the Omaha Symphonic Chorus.  with conductors Dr. Greg Zielke and Larry MacTaggart.  Featured "Nebraska – My Heartland", a new work for band and chorus by David Gardner. Also included the music of Nebraska native, Howard Hansen, Z. Randall Stroup, John Philip Sousa, Larry MacTaggart, and Keith Michael Davis.
See the flyer.
Check out the concert program.
Tickets: $15 Adults; $10 Students/Seniors; Free for children under 12
---
Thursday, November 23, 2017 – "Making Spirits Bright"
7PM at the Holland Performing Arts Center
Featuring Camille Matoyer Moten, vocalist and an audience sing-a-long.
This is a FREE event taking place as part of the Downtown Holiday Lights Festival.
---
Sunday, February 11, 2018 – "Winter Into Spring"
3PM – Omaha Conservatory of Music, 7023 Cass St.
featuring the NWS Middle School All-Star Flutes and Dr. Christine Beard, piccolo soloist.
Thank You! to the nineteen (19) Middle School flutists participated in this concert.  They performed marvelously! 
Tickets: $10 Adults; $5 Students/Seniors; Free for children under 12
---
"Gardens – Flowers – Bugs"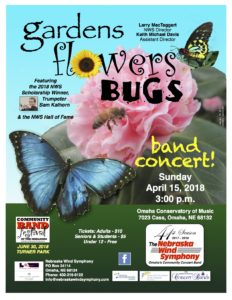 Sunday, April 15, 2018 – 3PM
Omaha Conservatory of Music, 7023 Cass St.
This concert features our 2018 NWS Memorial Scholarship/concerto competition winner, Samuel  Kalhorn, will perform the 3rd movement of Hummel's Trumpet concerto.  Kristin Parent, Jack Snider award winner and MCS band teacher, will guest direct a selection. Chiyo Trauernicht, Middle School Band Director at Blair, will guest direct "Red Dragonfly", written especially for her by Keith Michael Davis. Ken Molzer, founder and director of the Papillion Area Concert Band, will direct Flight of the Monarch written byLarry MacTaggart in memory of Gene Brong, a trombonist with both the PAC Band and NE Wind Symphony. We will also recognize our 2018 Hall of Fame honorees.
Hear Larry talk about the concert on KIOS.
Tickets: $10 Adults; $5 Students/Seniors; Free for children under 12
---
Saturday, May 5, 2018 – UNMC Commencement
Baxter Arena
---
Our season wraps up with these free summer concerts
Join us! for the first ever
Community Band Festival of the Midlands
12-Noon to 8:30PM – Saturday, June 30
at Turner Park at Midtown Crossing
(30th and Dodge)
We had an idea. How about a gathering of several outstanding community bands from across the Midland, all in one place, for a great afternoon of music?
The Festival includes eight wind and percussion ensembles from eastern Nebraska and western Iowa.  A new group will play on the hour for about 40 minutes, leading up to a mass performance of Sousa's "The Stars and Stripes Forever."
This is a free event.
Please contact us or give a donation to help fund this event.
For more information, see our Community Band Festival page.

---
Wednesday, July 4, 2018
NWS traditional 4th of July Celebration with the NWS Swingtones Big Band
6PM – Chalco Hills Recreation, S 154th St and Giles Road – free event