Become an
NWS fan
and receive up to date information on our upcoming events.
---
Fall Concert – Classics Old and New, Oct 28, 3PM
Omaha Conservatory of Music, 7023 Cass St.
The Nebraska Wind Symphony
kicks off our 42nd concert season playing classics of concert band literature. The Old standards "Russian Christmas Music" by Alfred Reed, "Finale to to Symphony No.3" by- Vittorio Giannini, and "Florentiner March" by Julius Fucik will be contrasted with a number of newer works; "October" by Eric Whitaker and "The Rusty Bucket" by Carol Britten Chambers.  Our special guest is Dr. Joshua Kearney, director of athletic bands at UNO. Mike Kelly, recently retired columnist with the Omaha World-Herald will serve as our emcee. Come and enjoy the music and some additional surprises during this concert.
See the concert program.

Tickets: $10 for Adults; $5 for Students and Seniors; free for children under 12


---
42nd Concert Season – 2018-2019
Sunday, October 28, 2018 – "Classics Old and New" – 3PM at Omaha Conservatory of Music
Thursday, November 22, 2018 – "Making Seasons Bright" – 7PM at Holland Center
Sunday, February 10, 2019 – "Spotlight" – 3PM at Benson High School
Sunday, April 14, 2019 – "Ladies Day" – 3PM at Elkhorn South High School
---
Thank YOU! to everyone who contributed to the success of our 2017-2018 concert season.
Our season began with  a collaborative concert with the Omaha Symphonic Chorus in October.  We were able to purchase badly needed new and replacement percussion instruments due to many generous donations and foundations.  The year ended with a fabulously successful (despite the hot, humid weather) Community Band Festival featuring 8 different performing groups and another record setting turnout at our annual Fourth of July concert at Chalco Hills Recreation Area.
We couldn't do this without the wonderful leadership of our Music Director, Larry MacTaggart, the NWS Board of Directors, our playing member/volunteers and our many fans.
THANK YOU!  Please join us for more great concerts in our 2018-2019 season.
---
 2018 Summer Concerts
The first ever Community Band Festival of the Midlands was at Midtown Crossing's Turner Park from noon to 8PM on Saturday, June 30, 2018.
The Festival included eight wind and percussion ensembles from eastern Nebraska and western Iowa.  Weather conditions curtailed the event and the concert portion by NWS.  The first seven groups played about 40 minutes, leading up to a mass performance of Sousa's "The Stars and Stripes Forever."  Thank you to everyone who came in support of the event or for their favorite community band.
For more information, see our Community Band Festival page. 
Thank You! to our Community Band Festival of the Midlands sponsors:
Omaha World-Herald; Nebraska Arts Council; Prairie Life / Don & Millies;
Elaine and Peter Lipman; Engles, Ketcham, Olson & Keith P.C.;
Fucinaro Excavating, Inc.; Valmont, Inc.; Papillion Area Concert Band;
Lutheran Family Services; Schmitt Music
See the Community Band Festival of the Midlands photo album
---
4th of July Celebration – FREE EVENT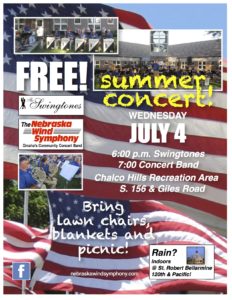 Wednesday, July 4, 2018 – 6PM
with the NWS Swingtones Big Band
Chalco Hills Recreation, S 154th St and Giles Road
We had another record setting crowd of nearly 800 people.  Thanks to everyone for coming out to support NWS as we celebrated America.
NOTE – because of the great success of this concert, we are looking for a venue that will better support our audience.
Check back later for our Summer 2019 concert schedule.
Get the July 4 concert flyer and share with a friend.
---
Thank You for your Support through Omaha Gives!



A big Thank You! to the 42 donors who gave $3400 in support of NWS during Omaha Gives 2018. These donations help us to continue to provide affordable concerts of great music to music lovers across the metro area.  We hope to see you at any or all of our upcoming events.
---
Hey Nebraska Wind Symphony Fans!
For information on all of our concerts see our 2017-2018 Concert Season page.
Don't miss another exciting concert!
Become a fan and receive information and reminders about our upcoming events.
---
Calling All Young Musicians!
2019 NWS Concerto/Scholarship Competition
The scholarship award amount has been increased to $1,000 in 2018.
2019 application period will begin in January 2019.
Congratulations to Sam Kalhorn, trumpet, for being selected the 2018 scholarship winner! Sam performed the 3rd movement of the Hummel Trumpet concerto at our Spring concert.
Visit our scholarship page for additional details.

---
Thank You! for your Financial Support
NWS relies on financial support from its playing members, concert patrons, and businesses and individuals from around the Omaha metropolitan area.  These gifts help us to pay for rehearsal and concert space, music director and other staff salaries, new music purchase and rental, performance rights, insurance, replacement equipment, and so many other things.
Please consider providing your financial support of NWS through one or more of these methods:
– Financial Donation
– Program Advertisement Purchase
– Omaha Gives
– Donation Programs like  AmazonSmile; Giving Assistant; TAGG (Together a Greater Good)
Thank you for your past and future support!

---
Have you liked us on Facebook?
Get the latest updates on concerts, plus much more…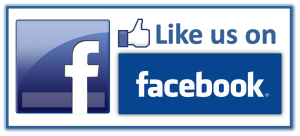 ---
with the support of the Nebraska Arts Council and the Nebraska Cultural Endowment