Become an
NWS fan
and receive up to date information on our upcoming events.
41st Concert Season – 2017-2018
"Winter Into Spring"
Sunday, February 11, 2018 – 3PM
Omaha Conservatory of Music,
7023 Cass St.
UNO Music Faculty member, Dr. Christine Beard, performing the charming "Wren Polka" for Piccolo and Winds, by Eugene Damare. Also featured are up to 20 All-Star Middle School Flutists from Omaha area public and private schools. The All Stars and Wind Symphony will perform "Flight of the Flutes" by James Ployhar and "Spring" from Vivaldi's "The Four Seasons", arranged by Keith Michael Davis.   Other selections include "Winter at Emerald Bay" by Alan Lee Silva and "Excerpts from Appalachian Spring" by Aaron Copland; arranged by Robert Longfield.
Tickets:
$10 Adults; $5 Students/Seniors; Free for children under 12

Tickets are also available at the door the day of the performance beginning about 2:20PM.
"Gardens – Flowers – Bugs"
Sunday, April 15, 2018 – 3PM

Omaha Conservatory of Music, 7023 Cass St.
This concert features our 2018 NWS Memorial Scholarship and concerto competition winner.  We will also recognize our 2018 Hall of Fame honorees.

Tickets:
$10 Adults; $5 Students/Seniors; Free for children under 12

Tickets are available at the door the day of the performance beginning about 2:20PM
Saturday, May 5, 2018 – UNMC Commencement

Baxter Arena
Our season wraps up with these free summer concerts
Nebraska Community Band Festival – FREE EVENT
Saturday, June 30, 2018 (tentative)
Turner Park, 30th and Dodge
This event is still in planning stages but we are anticipating having 7 to 9 community bands and other adult instrumental groups from the greater Omaha area.  Get ready for an entire day of good old-fashioned family fun!
Interested in helping to sponsor this event?
Please contact us or give a donation to help fund this event.
Check for more information as we get closer to this exciting new event!
4th of July Celebration – FREE EVENT
Wednesday, July 4, 2018 – 6PM
with the NWS Swingtones Big Band
Chalco Hills Recreation, S 154th St and Giles Road
---
Calling All Young Musicians!
2018 NWS Concerto/Scholarship Competition
The scholarship award amount has been increased to $1,000 for 2018.
2018 application period begins January 1, 2018. Applications will be accepted until February 9, 2018.
Visit our scholarship page for additional details.
The winner of our $750 scholarshipfor 2017 was Cal Switzer, trombone. Cal performed "Fantastic Polka" with NWS at our Spring concert.
---
---
Thank you to all of our NWS Fans and friends who helped make our 40th Anniversary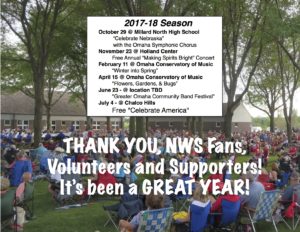 season a big success! Attendance at our two summer concerts was estimated to be over 1,000.  The crowds were large and very appreciative of our music.
Our thanks to St. Robert Bellarmine Catholic Church and Chalco Hills NRD for hosting our summer concerts.  The weather cooperated and we had two lovely evenings that were perfect for outdoor concerts.
We look forward to seeing you at any or all of our concerts for our 2017-2018 season.
---
Omaha Gives, Wednesday, May 24, 2017

A big Thank You! to the 33+ donors who gave $2440 in support of NWS during Omaha Gives 2017. These donations help us to continue to provide affordable concerts of great music to wonderful audiences.
---
Thank You! for your Financial Support
NWS relies on financial support from its playing members, concert patrons, and businesses and individuals from around the Omaha metropolitan area.  These gifts help us to pay for rehearsal and concert space, music director and other staff salaries, new music purchase and rental, performance rights, insurance, replacement equipment, and so many other things.
Gifts this past year in memory of/honor of someone special have allowed us to increase our annual scholarship award to $1,000.  Thank you for helping us support young instrumentalists!
Please consider providing your financial support of NWS through one or more of these methods:
– Financial Donation
– Program Advertisement Purchase
– Omaha Gives
– TAGG (Together a Greater Good)
Thank you for your past and future support!
---
Hey Nebraska Wind Symphony Fans!
For information on all of our concerts see our 2017-2018 Concert Season page.
Don't miss another exciting concert!
Become a fan and receive information and reminders about our upcoming events.
---
Have you liked us on Facebook?
Get the latest updates on concerts, plus much more…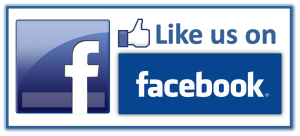 ---
with the support of the Nebraska Arts Council and the Nebraska Cultural Endowment